Unbelievable
I was on a huge search to finding the perfect coffee table for my loft. My gf and I always loved live edge tables but to find one within a budget was impossible. When we did find one it ended up being end tables. I randomly came across a google image on contour functional art table and immediately fell in love! I clicked on the image, saw the dimensions, and joy filled our hearts! I immediately ordered and crossed my fingers. The process is long (9 weeks from order to delivered) but WELL worth it. Ike from the Contour team updated me every 2 weeks on progress and our excitement built up!
I do not like tables with a glossy "wet" finish as I feel it takes away from the beauty of the wood. Contour Functional Art live edge coffee table is NOT THAT! Its a perfect balance of matte and sheen that the wood shows its rich colors. I wish I could upload my images but, what you see in the images is truly very spot on to what you get! The base as well is perfection as other live edge tables have a basic base. They literally hit the nail on the head. Buy with confidence as you will have a phenomenal piece!
Happy I made the purchase
I'm so glad we hired Jamar to design and build our new table. It was a joy to be able to support the work of such a talented artist. Getting to know him and feeling so connected to the process of making this piece has been a wonderful experience for me. Each time I look at my beautiful table I am reminded of my good fortune both in being able to live with a piece of such beauty as well as to be able to feel the connection to the wonderful human who designed it
Amazing conversation piece in my living room
I am so grateful to have found Jamar Simien and Contour! From my first contact with Jamar, I felt very comfortable and confident that I was very lucky to find an artist and craftsperson who was both extremely talented and passionate about his work. He helped guide me through the process of picking a piece of wood and designing just the right piece for the space
---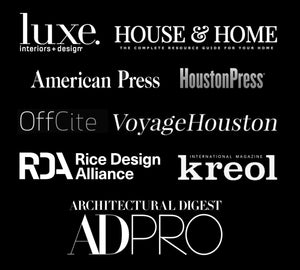 Contour Press
The unique story of Contour has been featured in a variety of publications across the country and around the world. 
View Articles